GCPAWN.COM Celebrates 5 Staff members with over 10 years of Dedication.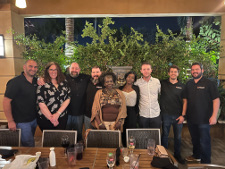 After much delay due to Covid, GCPAWN was finally able to celebrate (in person) with staff who have been part of the GCPAWN family for 10 years or longer. Luckily we celebrated with 3 wives, 2 of whom also work for GCPAWN. There is no better definition of family.

Our 10+ year staff pictured are Jonathan, Jason, Chris and Derek. Unfortunately our most tenured team member, Betty, was unable to attend as she manages our Polk County team and lives 3 hours away.